OUR VISION FOR CHILDREN'S MINISTRY:
GROW in Knowledge
LOVE God and Others
SERVE thru Action
Church is for kids! We want children to know that Mt. Pleasant First UMC is their church. It is a safe place where they can have fun, build lasting relationships, and experience the love of Jesus Christ.

CHILDREN'S CHRISTIAN EDUCATION
Sunday is our "Main Event" and we hope to see your family every week! It is our goal for children to experience scripture in action, not just in study.  Check-in begins at 9:45 am, and children can be picked up after the worship service and/or adult Bible study.
Check our YouTube Channel for creative and fun videos to help your children grown in their faith.  These videos are great for when you can't make it in person.
Would your family prefer to join us from home? Join Mrs. Jennifer and Doctor B Sunday mornings at 9:15 am for our weekly Zoom lesson.  An annual one time registration is required. Zoom links will be emailed weekly.
If this is your first time visiting Mt. Pleasant First UMC, please register your children.   
MORE FUN HAPPENING AT FIRST UMC!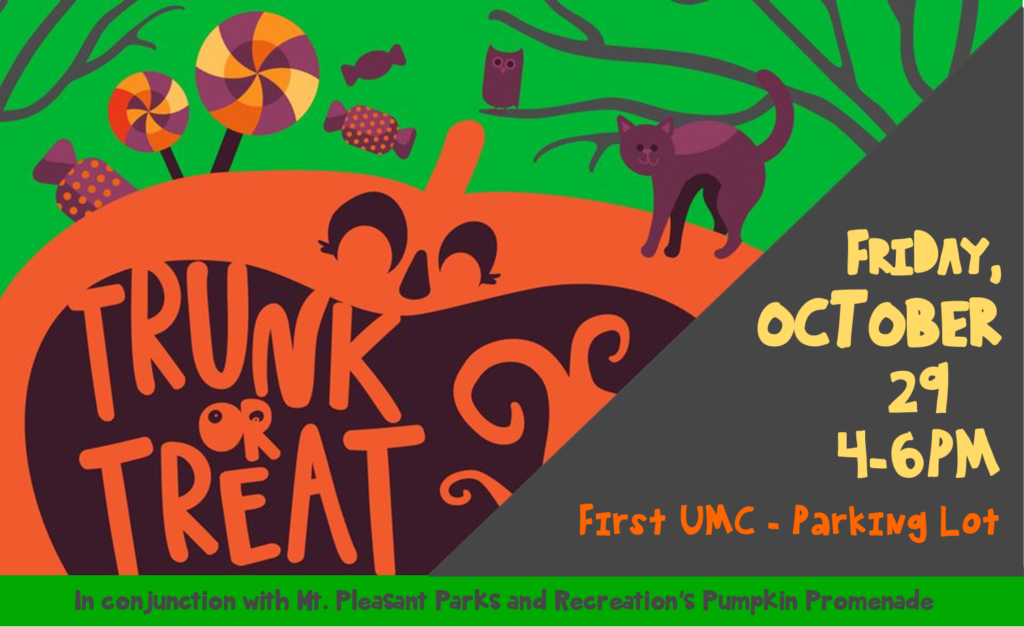 Join us on Friday, October 29th from 4-6 PM in our church parking lot for Trunk or Treat! Bring your dressed up kids and explore our collection of decorated trunks! You'll receive lots of yummy treats, a few toys, and a chance to win amazing prizes. Come at 1pm and stay the whole two hours or come and go whenever you can!
Park across the Main Street where the funeral home once was or in the downtown parking lot off of Washington Street. 
Event is FREE and open to the public. Invite your friends to join in the fun.
No need to register for this event.
Volunteers Needed!
Decorated Trunks AND Candy Needed! In order to make this event awesome we need decorated trunks and tons of candy! Plus there are several other ways you can help out at the event. Click here to sign up to help.
Decorated trunks will need to be ready to go by 12:30 and plan on staying in the parking lot until 3:30. Please note you will NOT be passing candy out from your trunks…We've got that covered!  
Check out our latest Community Service Project Bingo sheet! These are all meaningful service opportunities that will make a difference and ignite your child's spirit for kindness and compassion. All those kids who complete four or more of the projects listed, can turn in their sheet into Mrs. Jennifer and be awarded a special gift card.